About InsideKyoto.com and Chris Rowthorn

Chris Rowthorn started InsideKyoto.com as his personal blog in 2007 to share his experiences and discoveries in Kyoto and the rest of Japan with his family and friends.
In 2013, Chris expanded InsideKyoto.com to serve as an online guide to Kyoto, the city he has called home since 1996. He subsequently launched TrulyTokyo.com in 2015 and InsideOsaka.com in 2016 as companion guides to InsideKyoto.com.
Chris runs Chris Rowthorn Tours for travelers who wish to get a closer look at Japan, Hong Kong and Bangkok. You can find out more about his tours at ChrisRowthorn.com. You can also read reviews of ChrisRowthorn.com on Tripadvisor
About Chris Rowthorn
Chris Rowthorn was born in Oxford, England, in 1966. He was raised in the United States, where he attended Vassar College, graduating with the class of 1989. In 1992, Chris moved to Kyoto, Japan, and started studying the Japanese language and culture. After the mandatory stint as an English teacher, Chris started writing for the Japan Times in 1995.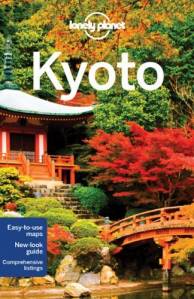 In 1996, Chris was recruited by Lonely Planet Publications to work on their guidebooks to Japan. Since then, Chris has written over 25 books for Lonely Planet Publications. He is the sole author of the Lonely Planet Kyoto City Guide, and has been the lead author of the last seven editions of the Lonely Planet Japan country guide.
He also authored one edition of the Tokyo city guide and worked on one edition of the Lonely Planet Hiking in Japan guide. He's also worked on guidebooks to Malaysia, Singapore & Brunei, Borneo, Southeast Asia, Victoria (Australia) and the Philippines.
Chris has also written for dozens of magazines and newspapers including National Geographic Explorer, Arthur Frommer's Budget Travel, BBC Online, and many more.
Chris's wife is from Kyoto and they have two children who are proudly multicultural. Chris speaks and reads Japanese fluently. Here's a clip of Chris on Japanese TV explaining the appeal of Kyoto. In his free time, Chris enjoys hiking, trekking, snorkeling, diving, reading and spending time with his family.
You can also find Inside Kyoto on Twitter and Facebook.
Contact Chris Rowthorn
Please note: Due to time constraints, I'm unable to reply to individual inquiries about Kyoto/Tokyo/Osaka/Japan travel.
Travel Consulting: If you wish to book a private consultation about your upcoming trip to Japan, please see my page on Japan Travel Consulting where you can specify your requirements.
Walking Tours: If you wish to book a private Kyoto Walking Tour, please select a Walking Tour and use the Walking Tour booking form after each tour description.
Media Inquiries: Please use the form below to contact me for interview requests. I can also provide articles and website content on topics related to Kyoto and Japan.
Advertising/Sponsorship: If you have an advertising or sponsorship request for InsideKyoto.com, please send a message to request our media pack. Please specify your target market and marketing budget for this project on application.
ビジネスまたは広告関連のお問い合わせにつきましては、こちらのフォームからメッセージをお送り下さい。日本語でも構いませんが、英語で書いて頂けるとより有難いです。
特に、外国人観光客が行きやすい京都のお店、レストラン、バー、イベント、体験・アクティビティ等に関する情報がございましたら、是非ホームページアドレスと共に情報をお送り下さいませ。
尚、お送り頂いた情報やメッセージは全て読ませて頂きますが、全てのメッセージに返信は出来かねますので、何卒、事前にご理解賜りますよう宜しくお願い申し上げます。
Enter Your Message Below
"*" indicates required fields
Kyoto District Map
Click a Kyoto District for detailed info on attractions, places to eat and accommodation